Animal Cognition and Behavioural Neuroscience Core Facilities
Animal Cognition and Behavioural Neuroscience Core Facilities
The rat behavioral core facility is located in the Social Sciences Center, in the Psychology Animal Facility.
The Psychology Animal Facility, including the rat behavioral core, is a multi-user facility, encouraging collaborative work amongst Western's, as well as external researchers. The rat behavioral core has a fully equipped surgery room and several procedure rooms equipped with a variety of behavioral equipment, as listed below: 
locomotor boxes – 2 x 4 (white and black background for different rat strains) (Figure 2)

4 startle boxes -Med Associates (Figure 1)

3 startle boxes -San Diego Instruments

4 Touch Screen boxes –Lafayette (Figure 4)

Morris Water maze

Radial arms maze (Figure 3)

Barnes maze

Automated Catwalk –Noldus (Figure 1)

Social interaction testing apparatus -3 chamber- black and white background

Bow tie maze- variation of Y-maze

Forced Swim test

Horizontal beam task

Stepping task

Active sound avoidance paradigm

8 automated Locomotor activity units with 8 conditioned place preference, 8 light-dark test and 4 hole-board test

4 Automated feeding units
Lickometer
2 Taste Avoidance apparatus
Analgesiometer
Rat Treadmill (Figure 5)
Recent publications from the research groups:
Faraj L. Haddad, Lu Lu, Kelly J. Baines, Susanne Schmid, Sensory filtering disruption caused by poly I:C - Timing of exposure and other experimental considerations, Brain, Behavior, & Immunity - Health, Volume 9, 2020, 100156, ISSN 2666-3546, https://doi.org/10.1016/j.bbih.2020.100156.
Scott KE, Kazazian K, Mann RS, Möhrle D, Schormans AL, Schmid S, Allman BL. Loss of Cntnap2 in the Rat Causes Autism-Related Alterations in Social Interactions, Stereotypic Behavior, and Sensory Processing. Autism Res. 2020 Oct;13(10):1698-1717. doi: 10.1002/aur.2364. Epub 2020 Sep 11. PMID: 32918359.
Kavaliers M, Bishnoi IR, Ossenkopp KP, Choleris E. Progesterone and disgust: A response to "progesterone does raise disgust". Horm Behav. 2021 Jan 29:104936. doi: 10.1016/j.yhbeh.2021.104936. Epub ahead of print. PMID: 33515558.
Effect of Combined Exercise Versus Aerobic-Only Training on Skeletal Muscle Lipid Metabolism in a Rodent Model of Type1 Diabetes. Dotzert MS, McDonald MW, Murray MR, Nickels JZ, Noble EG, Melling CWJ. Can J Diabetes. 2017 Dec 4. pii: S1499-2671(17)30314-3.
Contact information:
Facility Manager:
Francis Boon
fboon@uwo.ca
Tel: 519-661-2111 x84625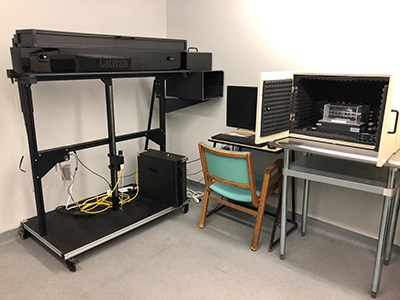 Figure 1- Catwalk and Med Associates Startle box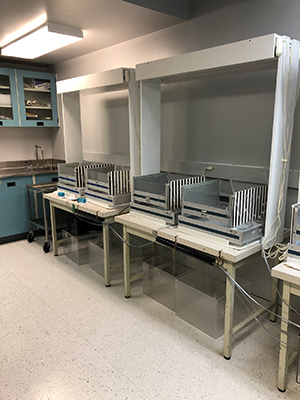 Figure 2- Locomotor boxes

Figure 3- Radial arms maze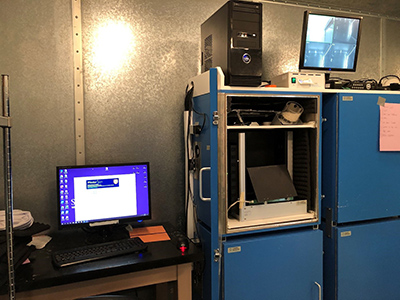 Figure 4- Touch screen boxes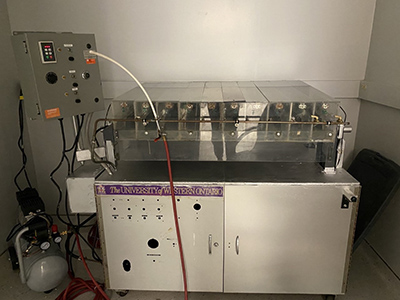 Figure 5- Rat treadmill